Last call on Limted Edition Blessed Herbal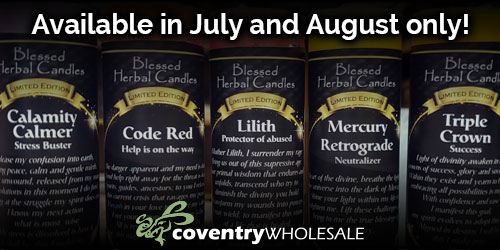 Fun times for us as Virgo rules this week. We will be exacting in all we do and almost to a fault. By Wednesday our moods will be overrun with "what's wrong with this picture?" in our love lives and our balance sheets. Perfection is a myth my friends! Jumping straight to Friday we will move our critical eye to our checklist for the winter months. We will be very interested in our readiness for the season of rest and restoration. Life will feel like a chess game on Saturday as we assess and adjust our financial and relationship situations. This could end up being the day we find an awesome deal if we look hard enough. Candle of the week is Hoo Doo Scales of Justice. Use it to keep your hyper criticalness in balance with reality.
Here's what you missed on CoventryWholesale.com / Type40sales.com this week...
Has your store become invisible?
After an incredibly turbulent July, we can all breathe a sigh of relief. August is calm and there are only two difficult aspects, but there are several good ones that we can take advantage of throughout the month. Now, Leo is one of the most misunderstood signs of the zodiac (along with Scorpio) and pop-culture astrology sites use keywords like self-involved, attention seekers, prideful, egotistical, and narcissistic to describe the sign of the lion, and these are at times valid descriptions.
---
---
Indulge in a Magical retreat with Jacki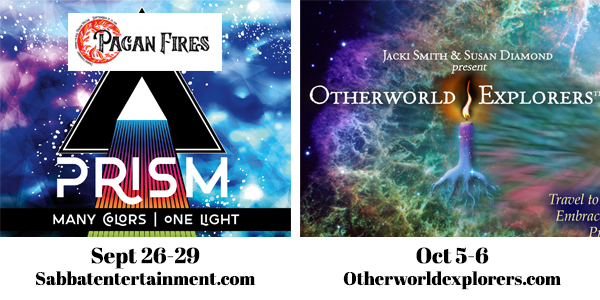 Sept 26-29

PRISM: Many Color, One Light and will highlight the unifying diversity in magic. Jacki is this year's ritualist. Her moving ritual filled with color, song, and laughter bring all of the colors of our soul together in a blast of love felt the world over.

October 5-6

This intimate setting in the Santa Cruz mountains is life-changing. Shed your worldly concerns and step into a magical playground with Jacki Smith and Susan Diamond. 2 full days of magical intensive hands-on experience and 2 bonfire rituals.